Automated Project Setup
Systems, Organizations, and Team Members Brought Together - Instantly
Systems, Sites, And Security Set Up And Connected In Minutes
When you build your project with ProjectReady, your team is instantly more efficient. That's because we allow you to bring together the systems, organizations, and team members on a project while automating the creation, security, governance, and easy access of crucial content management solutions while enabling connected collaboration across the project team at the very beginning of the project. Moreover, supported by a modern user interface and repeatable processes, ProjectReady is easy to use and navigate. Keep reading to discover how we have made it easier than ever to ensure the right people have the right access to the right content instantly and without the added overhead of having to enter a helpdesk ticket or call in IT.
How We Deploy Automated Project Setup
Guided by a simple wizard, ProjectReady instantly integrates critical project information from your accounting, enterprise resource planning, and customer resource management systems. We allow you to pull in the name of your project, bring in up to 100 data points, and establish your project's unique ID at the onset, which ensures a scalable taxonomy across all other connected systems.
These days, nearly every company depends on the Microsoft 365 platform. Whether you are using SharePoint as an intranet solution, send emails using Microsoft Outlook, collaborate using Teams, or manage security with Azure AD, M365 has become the go-to for businesses across the AEC. But making M365 work in the context of an project is not as simple as it could be, which is why SharePoint setup, group emails, and Teams channels often lands in the hands of IT.
ProjectReady is the only solution on the market that actually allows construction professionals, designers, and project owners to retain ownership of their project and the Microsoft assets necessary to move projects across the finish line.

During the automated project setup process, ProjectReady instantly gives the project team a project-specific SharePoint site for content storage, Microsoft Team for collaboration in context of the project, and a dedicated project mailbox in Outlook for correspondence. In a matter of minutes, your team has the fundamental tools necessary to efficiently manage complex AEC projects.
You already own the right tools, ProjectReady is what's needed to use them correctly in the context of the project. Using your existing Azure Active Directory, the ProjectReady application introduces proprietary APIs and security functions to apply specific security and governance rules to each user's role on the project. Once these roles are assigned, users are free to move across the connected systems while ensuring that only the right people have the right granular permissions required to view, edit, and manage specific content.
And because people and roles change frequently during the lifespan of a project, ProjectReady allows users to manage security and governance on a project throughout the duration of the project on both an as needed basis or in bulk by using our unique Enterprise Team Management feature.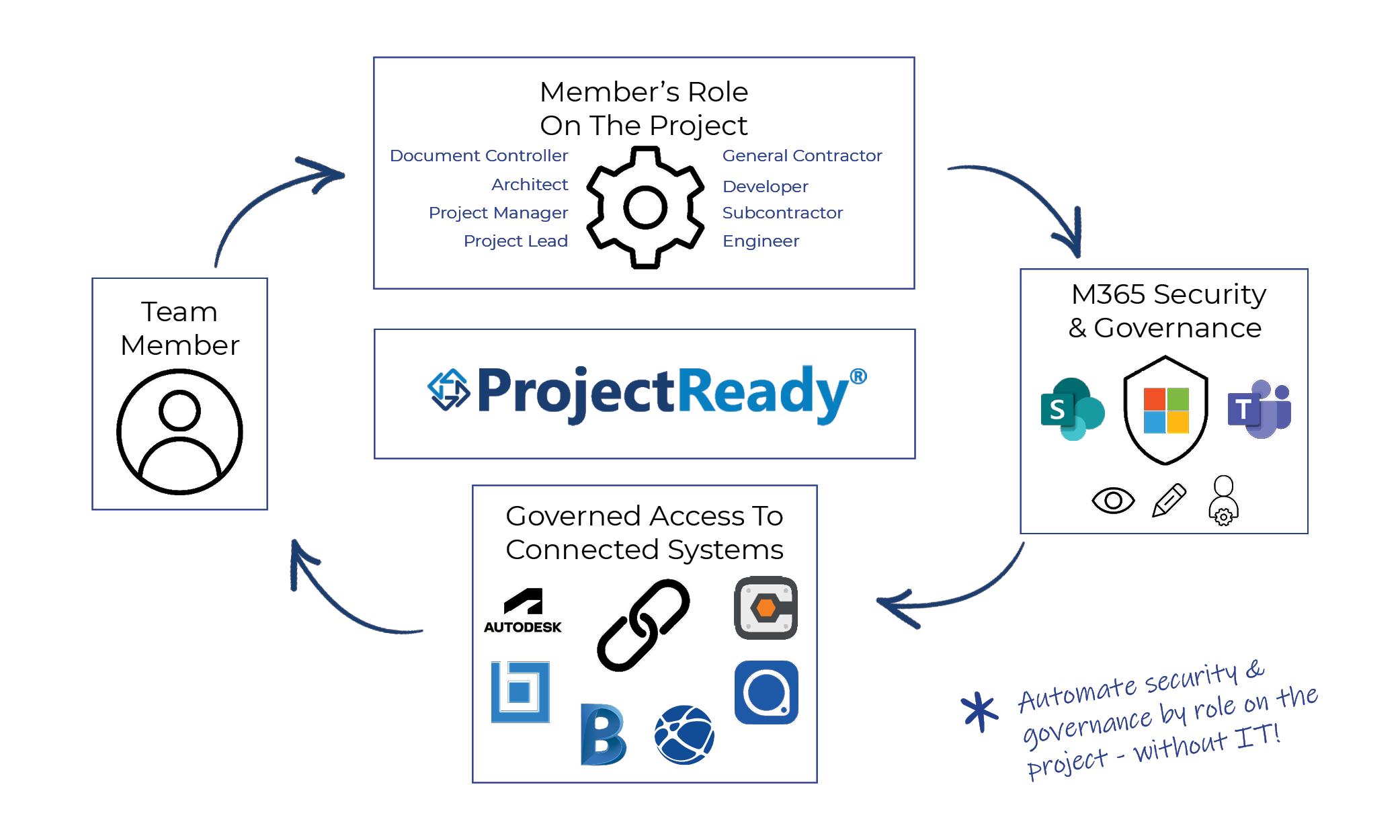 Moreover, every action and interaction on the project is tracked and recorded in your Azure SQL database, which means you always have an audit trail of when changes to security were made and who made the changes. This information and more is always easily accessible to you long after the project has been completed. With ProjectReady, you are always in control. 
Collaboration is dependent on connections, which is why ProjectReady works to drive collaboration through the various systems we integrate. The AEC, in particular, is heavily dependent on collaboration – particularly in the context of a project. Because ProjectReady deploys a dedicated Microsoft Team and Outlook mailbox, collaboration is automatically available and easy at various stages of the project's lifecycle.
When you build your project with ProjectReady, your connections are in place immediately, which is the hallmark of our Collaborative Project Information Management (CPIM) solution. In addition to your M365 tech stack, we connect and facilitate collaboration between Procore, Autodesk, PlanGrid, Bluebeam, Box, and more.